"For every minute spent in organizing, an hour is earned." – Benjamin Franklin
Hey guys!
Didn't come across much share-worthy content this week (maybe everyone's too freaked out about the supposed looming recession?? ;)), but here are the 5 articles I wrote this week for those of you who prefer to get them weekly vs daily.
Got an interesting note the other day from someone who said he reads them every morning while brushing his teeth, so I'm glad they're at least good for something! Haha…
Articles on the blog this week:
And then here was one article I did enjoy from around the web this week that came with a hilarious video to match :)
This Woman Got A Huge Raise And Paid Off Her Student Loans By Asking The "Over/Under" Question via Buzz Feed News — "Do you know that feeling of jumping into a metallic, purple catsuit to express your joy through interpretive dance with two backup dancers costumed in money signs? Probably not, unless you too have experienced the blinding exhilaration of paying off more than $200,000 in student loans. Caitlin Boston knows this feeling — it took her 10 years to get there. And it might have taken longer if she hadn't asked a simple question of her colleagues."
Blessed weekend!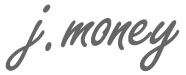 // For previous newsletters: Archives (below sign-up box)
// To connect further: @Twitter | @Facebook | @Instagram | @LinkedIn