The Way to Wealth

Gooooood morning, my beautiful, sassy, money hoarders!!
I hope life has been treating you well this week!! I've stumbled across a brave new world of exercising over here, and while it's still too new to see if it'll stick, I'm encouraged so far by the results….
You can learn more here in this post, but I've started a 100/day push-up challenge and it's been so much fun watching others join me in it and especially my kids :) My 10 y/o has been able to complete it faster, and more elegantly, than I have! It's wild!
But most importantly, it's gotten me to *start* exercising again, and reminds me of how fortunate we truly are to have such a great community here. I know for a fact I wouldn't be this excited about something so boring if it weren't for all the comraderie. Reminds me of when I first got started in finance! It was because of YOU ALL that I kept going with it!
So thanks for being here and always encouraging not only me, but everyone else here around you, and I hope you have a most wonderful – stress-free – productive – and FUN – weekend over there.
If you'd like to join us in the push-ups you can add your name and results to our spreadsheet here (because of course we have a spreadsheet!), otherwise all my favorite reads and nuggets from the community are posted below!
Happy Friday!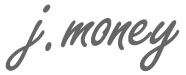 *Graphic up top from @smithklo – telling it how it is, lol…
******
Posts on Budgets this week:
The 100/Day Push-up Challenge 💪 — I've started a new challenge! Here's how it's going so far and what I've learned… If you need a little motivation yourself, come join me!! :)
Desire Paths: The Unconventional Way to Live Your life — Desire paths are the shortest and most easily navigated routes between two points, created by the same people going for Financial Independence! You'll start seeing these everywhere now once you know about them ;)
*To get these posts automatically emailed to you on the day they come out, sign up to my blog newsletter here.
******
Favorite Articles Around The Community:
The Way to Wealth @ Humble Dollar – "Ben Franklin wrote the most popular personal finance text of the 18th century. Originally published in 1758 as an essay in his Poor Richard's Almanack, it became a perennial bestseller when printed separately under the title The Way to Wealth. You can read the 1810 version printed in London at no charge, thanks to Project Gutenberg."
A Screenplay on a Fake Financial Influencer @ We Want Guac — "Those of us in the financial education community tend to run into many a fake financial influencer way more than we would like to. They hawk NFTs, day trading, and full life insurance with urgency, like you're gonna lose out big time if you don't buy in the next few minutes. Oh, and don't forget showing off how amazing their life is since they're so rich and successful… when they fail to show any proof of actual hard work or financial numbers. This is what came to mind when I was writing a short film script."
HGTV Made Me Do a Flip; Here's How It Ended Up! @ Investment Soup — "Ever since I started my real estate investing career back in 2005, I had always wanted to do a flip, and experience the satisfaction of taking something old and bring it back to its former glory. I call it my 'HGTV induced false prophecy'."
"Opportunity Paranoia" and 6 More Ways Your Brain Sabotages Your Money @ The Best Interest – "Every decision today has a painful opportunity cost in the future. But skipping today's dinner (and every nice expense ad infinitum) might make you the unhappiest guy in the nursing home and the richest guy in the graveyard."
The People Making Millions Off Listerine Royalties @ The Hustle — "A little-known provision in a 100-year-old contract opened up the door for private investors to mint money from mouthwash sales." (H/T Apex Money)
The Woman Who Travels The World With Only a Tiny Bag @ CNN — "Brooke Schoenman is an American woman living in Australia and the publisher of Her Packing List, a website which she uses to pass on her wisdom when it comes to whittling down what to take on the road. And that's something that she's road-tested almost to the extreme."
******
News Around The Community This Week:
Interesting news that caught my eye this week…
******
Dollar Bill of The Week: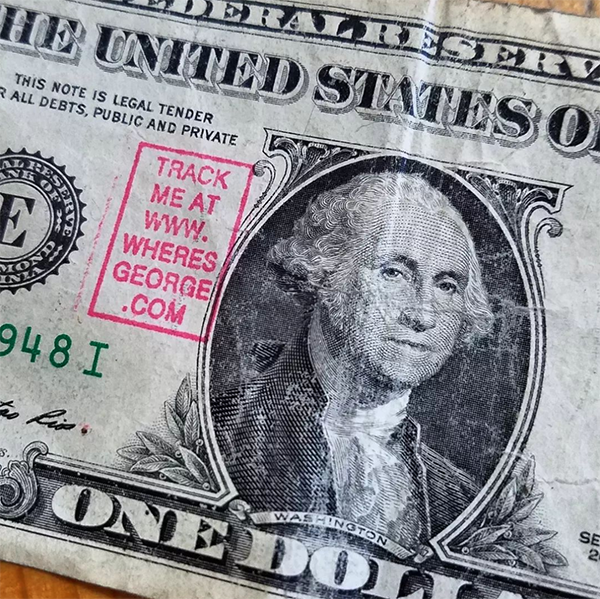 Found this stamped dollar in my change the other day!! Remember the website Where's George?? Where you look up the serial #'s to see how far – and where – the dollars have traveled? I did it first thing as soon as I saw this puppy and here's what I found out:
This bill had traveled over 250 miles to get to me!
It started in Ohio and traveled alllll the way to Virginia
Which took him (her?) 40 days to do so…
Averaging about 6.25 miles/day :)
Neat, right? I hadn't done it in YEARS when cash was exchanged much more frequently* so the nostalgia was running high… The tracker was created back in 1998 and still very much looks like it! 😂 Keep an eye on your pockets and maybe you'll be the next to get one!
*The other day I tried *TWICE* to use cash at local shops, and both places rejected me (!!) They've gone to "card only" unless you can produce exact change, which of course will never happen… Sad times for this coin collector…
*******
And that's it for this week!

Thanks for being here, and have an epic weekend!

// For previous newsletters: Archives
// To connect further: @Twitter | @Facebook | @Instagram | @LinkedIn