Bliss Consciousness ☀️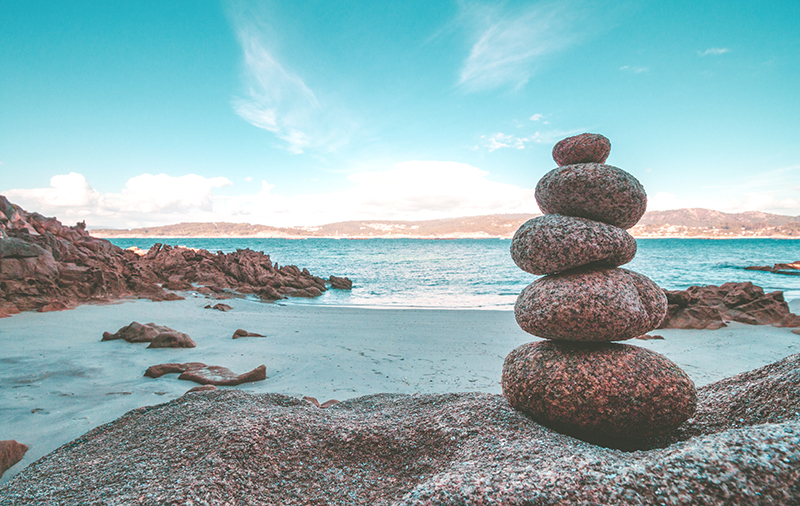 Peace be with you, everyone!
Such a beautiful morning to be alive, isn't it?? I walked out this morning to get the paper (yes – a physical paper!! It's marvelous!) and immediately stretched my arms up high to the heavens in thanks as I breathed in the cool Virginia air…
My wife asked me what I was doing as she caught me in the security system (it alerts her anytime something sets off the front video camera), and I told her I was thanking God for letting me be alive, haha… She thought that was hilarious, but nothing funny about it to me! I am thankful!! I was on death's doorstep a few weeks ago and I've been granted a new go at life!!
I'm also super thankful for an old friend in the space who I've reconnected again with and been enjoying getting to know more – Grant Sabatier of Millennial Money fame and best selling book, "Financial Freedom: A Proven Path to All The Money You Will Ever Need".
He too sold his blog to The Motley Fool the other year, but recently had me on his popular podcast he's rebooting and the energy between us was off the chain… Can't wait to pass it to you when it's live, but after the show we ended up getting into life and philosophy and all types of other good stuff, and he alerted me to a thing out there called "bliss consciousness."
"Bliss consciousness is a state of pure openness to everything. It's when you are living in the recognition that the same energy that created you created me, the trees, all of it. When you recognize that it's all the same thing. When you completely surrender to universal consciousness, this energy works within you and reconnects you to the divine. "
Soooo beautiful!! And not sure I quite understand it *fully*, but I'm liking how it makes me feel… He says you get closer to bliss consciousness through dedicated meditation practice, years of devotion, a Guru's direct blessing, or sometimes even spontaneously. It also expands over time. And my recent illness and near death experience with the car are apparently common conditions that can stir this type of energy in you with the ecstatic feeling as a byproduct of increased awareness.
I'm still taking it all in, but consciously or subconsciously his new mantra is infiltrating my life and I'm digging it! The "stirring of the Shakti" he calls it. I even channeled it during my yard sale hunting last weekend and the world provided me with this gorgeous wooden zen fish necklace for only $1.00*!! Lol… Which immediately brought me peace and inspired my whole wardrobe for the rest of the weekend 😂
Here's a video I threw out on Insta while enjoying a lazy Sunday down by the river… Can you feel the blissfulness?? :)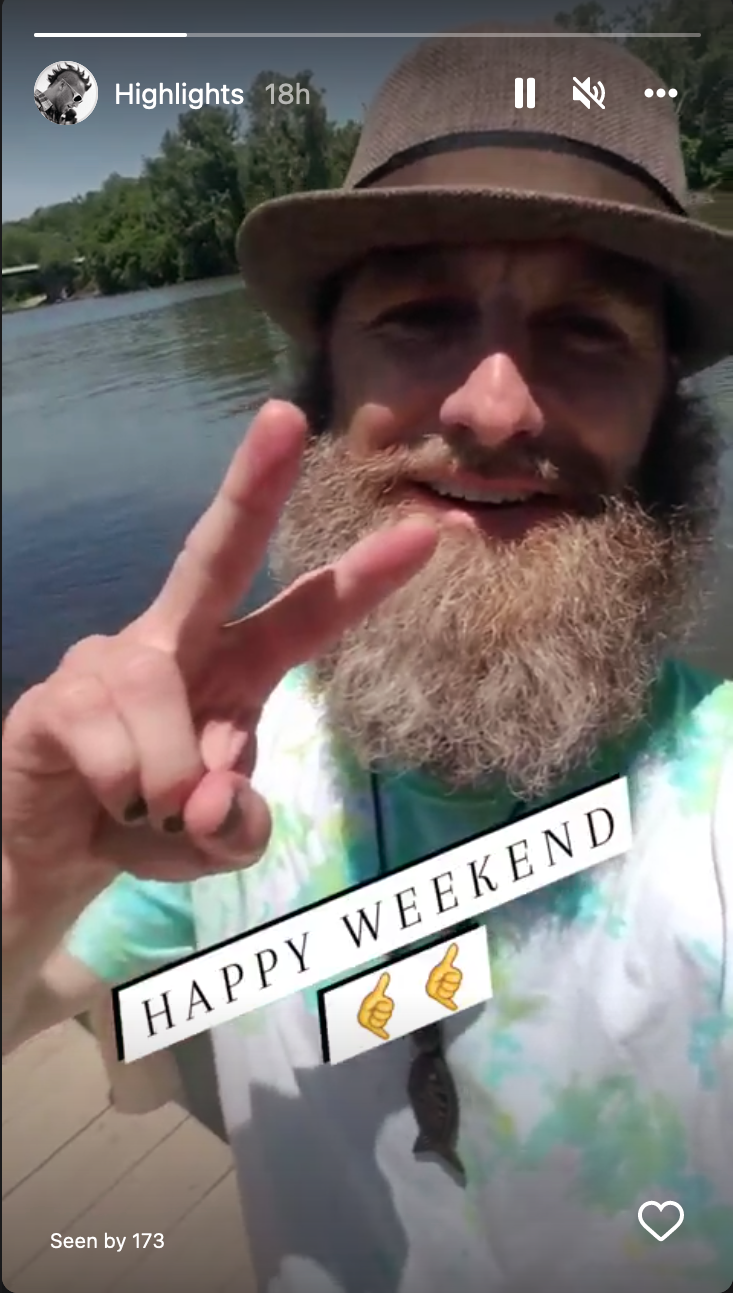 [Is this what they call Boho Chic?! Lol…
My tie-dye shirt was $4 from Goodwill :)]
I'll stop here as I know not everyone is into this sorta stuff, but if you are Google "bliss consciousness" and see if it stirs you up in any way… I'm sure I'll be talking about it again at some point if it continues to flow through me :)
In other fun news:
#1. The Fool accepted my offer to buy Budgets back, ZOMG!!! This is gonna be so fun!! Gotta still get the contract and make it all official (hopefully by the end of next week), but the stars are starting to align! And really have to thank them SO much for not only bringing me back into the fold here, but really for the past few years of helping my dreams come true and being so generous throughout the entire selling and transitioning process, and even into tapping me to build out All-Star Money for them (R.I.P.).
It didn't work out long-term, but it's rare to find an organization where the culture matches you so well and they actually *care* about the people and work they do. So massive thanks for everything these past few years, Roger, Laura, Dana, Tracy, Chris and Bledsoe!! It truly means a lot, and has made this entire experience so much better cuz of y'all 💙
#2. My kids are out of school!!! I officially now have a 5th grader, a 3rd grader and a pre-schooler, eek!! Remember back in the day when I used to track every dollar it cost to bring a baby into the world?? And how I thought I could track it for 18 years but only lasted like 18 months?! lol… Funny to look back at how you saw life years ago and how much you change over time… You're constantly evolving too so there's really no such thing as permanence! Especially with kids!
We got them in some camps and vacays here and there throughout the Summer, but it'll be interesting to see how much work I get done as TOGETHER they are loud and pure madness… Sweet as anything apart, but all three boys in one room = CHAOS. You boy moms know!!
#3. I've got a new collection of rings!!! I threw it out into the world last month that I wish I had more rings to rock, and then BAM! I start seeing them everywheeeeeeere I go now, and even at the same shops I always frequent, isn't that wild? Or maybe that's a part of all this bliss consciousness??!
It started with a couple $10 rings and then moved to a $60 one and now onto cheap vintage necklaces and bracelets too, lol… Though in my defense I've probably only spent around $100 for everything which is pretty damn good I think, especially as I wear the 4 rings every day now!! That cost-to-use ratio is on lock.
(And I also bring Baby Dime shopping with me for good Quality Time who also gets to pick out a ring or two for being  a good little helper… So it's kinda become a weekly "experience" for us – at least that's how I'm justifying it to my wallet ;))
Look how pretty!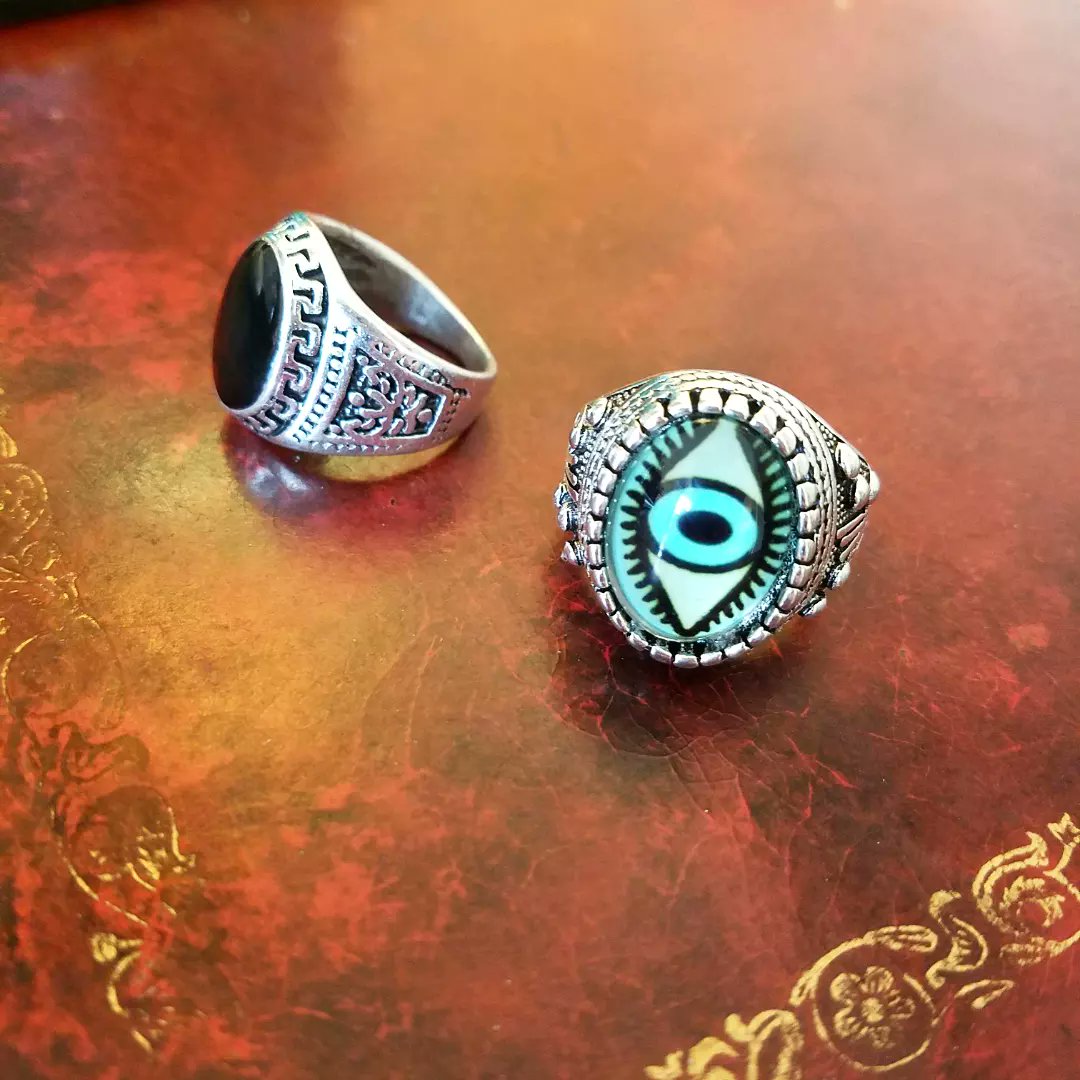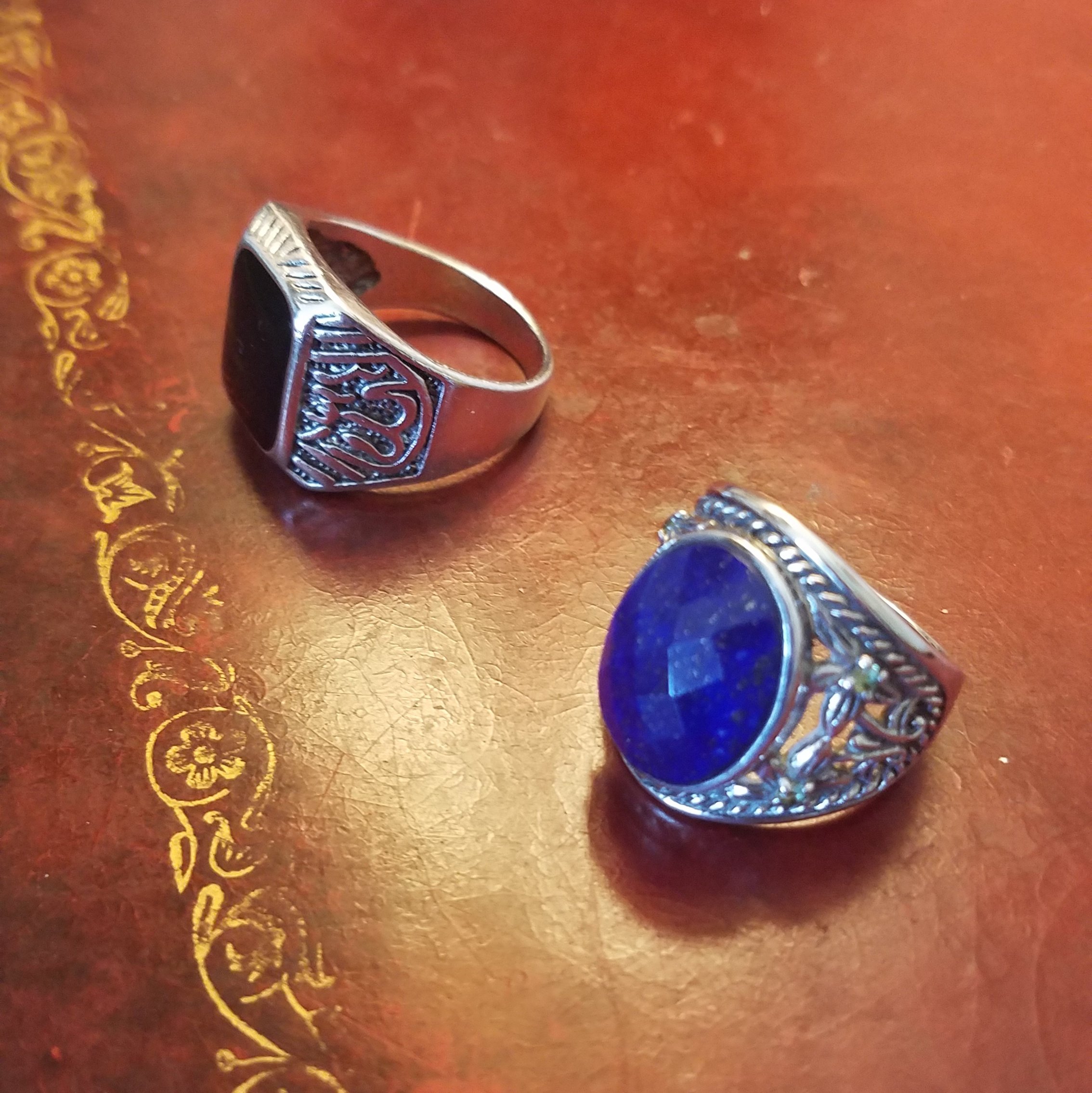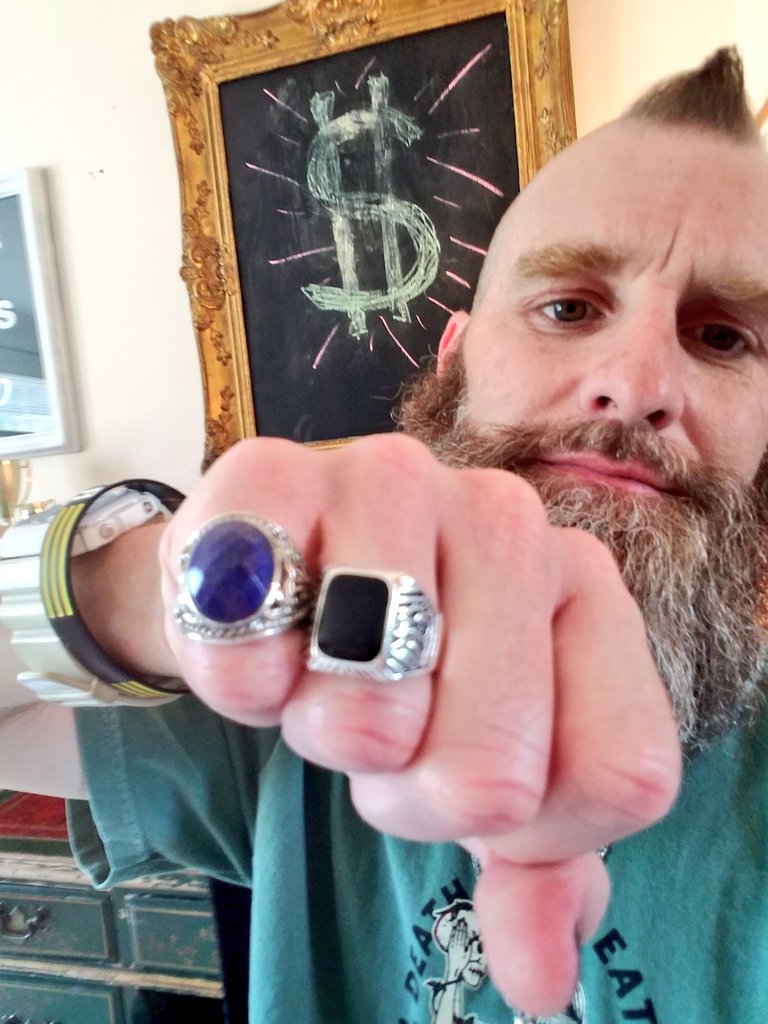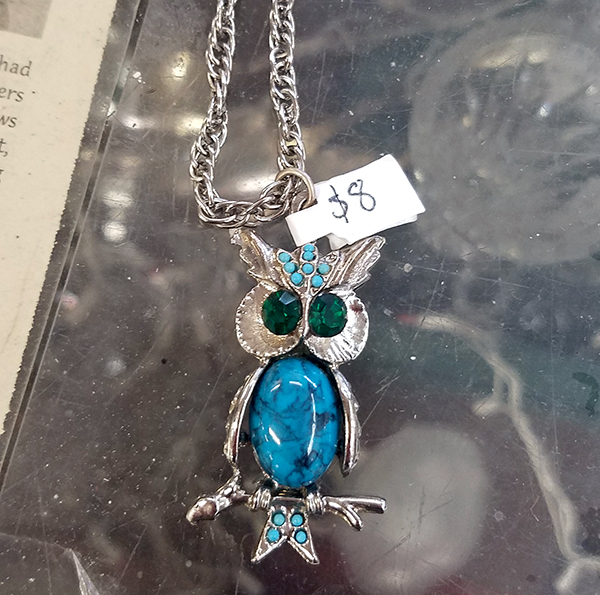 [Can you tell which of the group was $60?
I gave you some help with the last one ;)]
And that's a wrap for this week! Another fun, productive, and downright exhilarating time project-wise over here… Hope y'all had a healthy and happy week too! Will keep you updated on bringing Budgets back!! I've got ideas!!!
Favorite reads from around the community are posted below, and as always just hit "reply" and say hello anytime…
Your friend in bliss,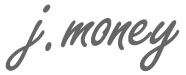 *The fish necklace was in a bag full of jewelry for a lot price of $3.00, but I snuck it out and asked if I could buy just that one necklace for $1.00 – why take a whole bag of stuff you don't really want? People call doing this a faux pas, but I call it asking for what you want and seeing if you can get away with it ;) And it worked!
******
Favorite reads this week:
Finally, a Stock Market Crash! @ Mr. Money Mustache — "The world is scary and the stock market has plunged, but the fundamental picture hasn't changed at all: billions of humans are working hard and applying their ingenuity every day to get ahead. People who understand this unchanging mechanism will look at this year's sale on productive asset and say, "Cool – sign me up for another helping of future wealth, and thanks for the deal!"
Six Questions to Ask Yourself Before Making a Purchase @ Rich In What Matters — "Would the best version of "me" buy this? If the best version of you wouldn't buy an item, then don't. Before making a purchase, tap into your authentic self, and ask if you really need to buy the item. Consult your gut feeling. If it's an uneasy one, listen and don't make the purchase."
How Can I Save When I Fear There Might Not Be a Future? @ Douglas Soi — "I always tell my students that personal finance is about your relationship to the future. And in this uncertain world, people, especially younger ones, are finding their relationship to the future hard. There's a sense of anticipatory grief, dread, about how our world is going to look in twenty, or forty years.
Zero-Based Budgets: Templates and Examples @ Wallet Hacks — "Here are five excellent and free, zero-based budget templates to help you manage your money. I've included fillable spreadsheets and PDF printables for those who prefer to budget the old-fashioned way. 😉"
How to Travel for Free with Home Exchange @ Millennial Revolution — "The concept is simple. You stay in someone else's home, they stay in yours. No money changes hands, and you become part of a thriving community of open-minded travellers who want to make friends instead of money."
2022 Berkshire Hathaway Annual Shareholder Meeting Video, Transcript, and Notes @ My Money Blog — "Here are my notes on the 2022 Berkshire Hathaway Annual Shareholder Meeting. I enjoyed listening to it like a podcast first and then reading through the text a second time around. There are many financial media articles with highlights, but here are my personal takeaways and notes."
You're Probably Using the 4% Rule All Wrong @ The Best Interest — "The 4% rule assumes a "50/50" portfolio… If you're using the 4% rule on a 100% stock portfolio or 100% bond portfolio, you're using it wrong. Each portfolio (all stocks? all bonds? mix?) and each duration (30 years? 20 years? 40 years?) has a safe withdrawal rate that you can use as a benchmark. But it might not be 4%!"
Just Inked a Contract For My Next Book, and I Want You To Be a Part of It! @ JLCollinsNH — "We want to hear your stories! You can be at any financial stage of the journey and you can write about any aspect of it, and at any length. In fact, focusing on one small part – rather than the whole quest – would be good, and maybe better, than trying to tell your whole story. We are planning about 250 pages for this book, so space is limited. The earlier you submit, the better your chances of having your tale included."
*******
// For previous newsletters: Archives (below sign-up box)
// To connect further: @Twitter | @Facebook | @Instagram | @LinkedIn